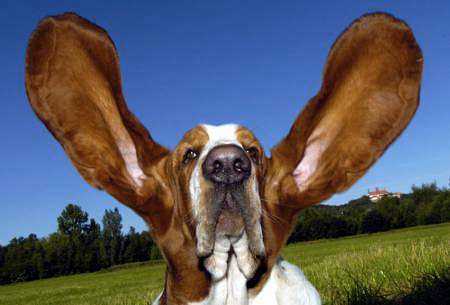 Photo by Anonymous*
FUPPPSYLVANIA, August 23, 2005: For the second time this month the Rev. Mr. Bassett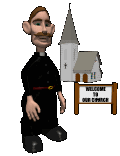 stood before his four-legged congregation warning of "the devil in disguise."

Appealing for common sense and understanding among all living beings, be they human, dog, cat or gecko, Rev. Bassett cited a statement from AP wire service made by Pat Robtheirsons, the founder of the Christian Coalition of America, that a leader of a South American nation possessing oil should be assassinated because "it (was) the United States' duty" to stop him from making his country a "launching pad for communist infiltration and Muslim extremism." Rev. Bassett noted that the televangelist had gone on to say: "We have the ability to take him out and I think the time has come that we exercise that ability...It's a lot cheaper than starting a war, and I don't think any oil shipments will stop."

The long-eared reverend also cited as alarming some other examples of beliefs the icon of America's religious right espoused. Among them was Robtheirson's disdain for anything that even resembles NIPtuals or partnerships of same gender individuals.

Rev. Bassett asked his congregants, "If he can stand and call for the outright killing of a national leader with seeming immunity, will anyone dare stand against him when he goes a step further and demands the same for those in same sex relationships, and all who support one?"

"Our country is small and not politically powerful but at least we are honest and realistic," the long-eared minister told the FUPPPSters in attendance. "We uphold the right of any and all to wed the partner of choice, regardless of gender." All tails, usually held high in joy during the Rev's ordinarily upbeat sermons, remained at half-mast or flat downward-pointing as the listeners received the sermon.

Rev. Bassett added, "Fupppsylvania may have dissenting voices but never has anyone ever called for the killing of someone they don't agree with."

He concluded his Sunday address by reminding his flock of the time when black cats were believed to be ambassadors of Satan and were summarily put to death. Then he questioned if the country the televangelist calls home wasn't regressing to the days of the Inquisition.
As the congregation departed the service, the mood brightened as one feline questioned her partner: "With the recent state court ruling that protects kittens and puppies of same sex parents, I wonder if Robtheirson's next target might be the judges who find in their favor."

"Ah," her partner retorted, "this self-appointed morals czar probably just got into bad catnip."
Contributed by FUPPPS new Editorial Associate Editor, I. Ben Hadd

Approved by the FUPPPS Editorial Board

*Sent via web. If you are the photographer, or know the photographer, please contact us!